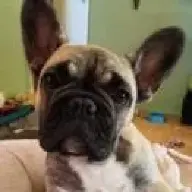 Joined

Aug 1, 2013
Messages

424
Reaction score

14
Marg got spayed yesterday... We decided we wanted to so it before her first heat. She did great through surgery without any complications... I'm so relieved.
She is still very exhausted but not as out of it as she was yesterday... Just pitiful
She has belly band on to protect her stitches, and that's coming off tomorrow. Instead of a god awful cone to wear on her head, they vet said she could wear a small tshirt to prevent her from reaching stitches. She is 20 pounds, does anyone know what size of a kids tshirt we should get her ??
Oh and to top it all off I had all 4 of my wisdom teeth surgically removed this morning... Marg and I are going to be laid up on the couch all weekend I think!
Please send good thoughts our way... The hardest part is going to be keeping her quiet and not playing or jumping all week
Sent from my iPhone using
Tapatalk