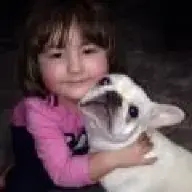 Joined

Oct 14, 2013
Messages

18
Reaction score

0
I am all over this forum tonight. Nola, our one year old Frenchie, has been chewing/licking at one paw all day. It appears red and maybe swollen (we just got her Wednesday and have never owned a bulldog before). Then, I noticed her lips and inside her ears look red, too. I'm thinking maybe it's an allergic reaction to the baby wipes I use to clean her face, eyes, paws, ears, etc. I use Target brand sensitive.

She is also constipated. She hasn't pooped since yesterday AM and seemed to have a lot of trouble doing so. Also, she has been peeing only tiny amounts at a time. AND IN THE HOUSE. Even after she's been out!

It's been less than a week and I've already ruined her!!!!!!!!!! I'm so upset and worried and not sure of what to do.