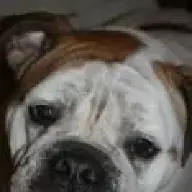 Joined

Apr 23, 2013
Messages

1,283
Reaction score

8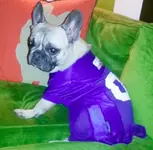 Location: New York City
Age: 7
Sex: Female
Weight: 23 lbs
Kids: Older, dog-savvy
Cats: No
Dogs: Yes
Fenced Yard: Preferred
Adoption Fee: $500
Barbra is in great health and acts much younger than her age. A couple of years ago she slipped a disc in her back, but there have been no other issues since then. Barbra will tolerate other dogs and it doesn't matter if they are male, female, big, small she doesn't show any aggression with them at all. She much prefers to be with her humans and doesn't engage in play with other dogs. It is unknown how Barbra acts with cats, so for this reason cats should be a no. Barbra does great with kids. She used to have a younger child that she was around. Her foster family has not had her around children but knows that she did good when she was around the kids in her last family. Because she is fearful of strangers, children should know that they can't have friends over unless Babs is crated. It might be best for Barbra to go to a child-free home, given her escapist skills and her tendency to nip.
Barbra is both housebroken and crate trained, though she prefers not to be in her crate. She will stand by the door to let her people know that she needs to go out and do her business. Barbra would not make a good office dog because of her fear/reactivity to strangers and people that she doesn't know.
Barbra is severely upset whenever someone that doesn't live in her house comes to visit. It could be certain family members, friends, or even the UPS man. She has nipped at two people while in foster care and broken the skin. She has spent 6 weeks working with a trainer on her issues and her foster mom has noticed a change in her behavior, but she still has a long way to go. For these reasons it is important that Barbra go to a home that has little if any visitors coming over and be placed with experienced dog owners. A home with a secured yard is ideal for Barbra and in an area that is quiet and calm. Her new family would also need to come home to let her out mid day or work from home due to the fact that she would not be good with a dog walker.
Barbra is content to sit around and chill with her people. She has become fond of walks and it is stressed that these walks continue with her new family because it helps her to release some of her energy. She has discovered Nylabones and will chew on those. She can also be a little escape artist so her new family has to beware of the magic that she tries to use to open doors that aren't all the way shut or when she is trying to disappear!
Wanna adopt?
Please visit the French Bulldog Rescue Network's website and fill out an application. Click the Frenchie you are wanting to adopt, and you will find an "Apply For Me" button on their information. Please be sure to read their adoption process. Here is the link:
http://www.frenchbulldogrescue.org/adoption-info/available-dogs2/
To view more Frenchies from FBRN, follow this link:
http://frenchbulldognews.com/forumdisplay.php/38-USA-French-Bulldog-Rescue-Network
Please let them know you found them on French Bulldog News!