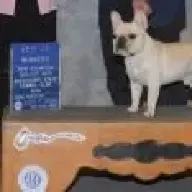 Joined

Apr 6, 2013
Messages

4,405
Reaction score

70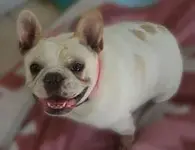 Butter is a beautiful, sweet , loving and adorable, 5 year old french
bulldog She is a bigger girl, who weighs about 33lb's and is slightly
overweight. She will benefit from a little exercise and a well
maintained, healthy eating routine. She had two potty accidents early
on in her foster home, as sometimes happens in a new place - but since
then she's been perfect!. She is an absolute dream!
Butter is good natured and easy going. She does well around other
dogs, but she doesn't really care about them. Her goal in life is to
be by the side of her person! She has short bursts of activity, where
she really enjoys a game of toss and tug with her person. She doesn't
play a lot with the other dogs, but she will occasionally engage with
them in a short round of frenchie wrestling! She is most content when
she is close by your side. She loves the cold weather and won't let
you get lazy when winter sets in! She LOVES a walk around the
neighborhood. She really doesn't play a lot in the yard, but she
loves to sit out on the steps and watch the world with you - or patrol
the perimeter and let you know about anything interesting that she
sees. Butter is more vocal than the typical frenchie. When she is
first getting settled in and accustomed to her surroundings, she did a
lot of barking. Once she knows the routines and usual noises, the
barking is much less frequent. She's quiet and content when she's
by your side. Perhaps due to something left over from her puppy mill
past - on occasion, when she is startled, Butter will wake up with a
growl. It is over nearly instantly, once she realizes that shes safe
and loved.
One of Butter's most adorable habits is that she loves to walk along
any place in the home where she can feel material against her back.
She plays in the shower curtain, the bedspread and the living room
curtains. She will walk back and forth under them, with the material
brushing against her back. She is also a perfect sleeping companion.
She doesn't hog the bed and she doesn't steal the covers. She doesn't
snore. She falls asleep quickly, with her head on the pillow beside
you. When she wakes up in the morning, she happily wiggles and
squirms around on her back, waiting for her belly to be rubbed.
You'll never wake up in a bad mood with this little snugglebug beside
you. She is the perfect frenchie princess, looking for the perfect
home, where she will be loved, spoiled and adored.
Her adoption fee is $450.00. Please Download our application by
clicking here
.
Wanna Adopt?
Please view the adoption process and fill out an application at their website ---> frenchieporvous.org
To view more available Frenchies from this rescue, click this link ---> Chicago French Bulldog Rescue
Thank you for considering adoption for your next family fur-mate!
Please let them know you found them on French Bulldog News!