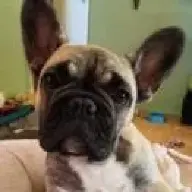 Joined

Aug 1, 2013
Messages

424
Reaction score

14
Hi Everyone!
Another puppy question for all of you experienced frenchie owners!

We have both a collar and a harness for Margie, our 11 week old puppy. She wears the harness when ever we take her some where that she needs to be on a leash. Our vet/breeder told us collars are bad for them if being pulled on by a leash. So a harness is all we use with walking her.

With that being said, I bought her the cutest sparkly pink collar to wear around the house and in our yard when supervised. We would never hook a leash up to the collar it is just for looks. She absolutely hates it, scratches constantly at it and spins in circles when it is on. I have only been able to keep it on her for 15-20 minutes at a time because I feel bad and then take it off. She doesn't have this reaction to her harness?

Does anyone have any tricks or tips on how to get her to accept the collar and wear it without freaking out? Again, it is just for looks so if we have to go without it we can, but it would still be nice to get her use to one.