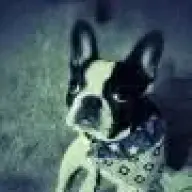 Joined

Aug 30, 2013
Messages

118
Reaction score

1
Hi!

We recently moved to a new location and I am also currently pregnant with our first child. During this time I've been sick a great deal and unable to walk the dog as regularly as possible. She's never been aggressive to me or anyone else inside or outside the house, however when my husband comes home, or our family stops by, she bounces around begging for attention and nipping at fingers. The other day she caught my mother in law's finger and it hurt (didn't break the skin).


I'm the only one who regularly disciplines her (we're working on that) but with things being as rough as they have been these past few months I'm finding that she's starting to become more strong willed and I'm worried that as I get further along (I'm still in first trimester) she will get worse. I'm also afraid that when the baby is born she might be too rough with him/her, or that her playful nibbling will turn into actual aggressive nipping.


My current concern is with the door. When someone rings, or first enters, she bounces around doing the behavior I described above. Does anyone have any suggestions that might help?


I've been considering trying to have her sit and wait but I'm not sure if I should leash her during that time (or if that will just make her more excited thinking she's going on a walk), use treats, ask our guests to ignore her until she calms down, or try something else? We are not physical with our bully and don't discipline in that way.