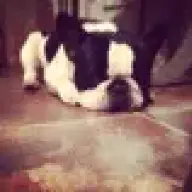 Joined

Jan 19, 2014
Messages

14
Reaction score

0
Intro:
Hello,
I'm new to this sit/forum.
My name is Arrie, I'm a young lady living in the U.S.A. I have a male french bulldog named Jaux. I love him to death! Jaux is roughly two years old and I've had him for a little over a year. Jaux comes from a line of show Frenchies and he + his entire family are registered AKC dogs. Both of Jaux's parents have been healthy sense the day they were born (in other words, his mom and dad have never had any health problems or conditions).
Help Me Please:
Lately my french bulldog has been having a very odd breathing problem of which I'm very concerned. Now and then my frenchie will act and sound as if he is choking on his own tongue! This chocking thing will usually only last for about 5-10 minutes minutes and then he is fine again. If I'm around during this odd breathing fit I rush to his side and I soothe him which seems to cause his odd breathing problem to stop much faster (within 1-3 minutes I'd say). I am very worried. Could he have asthma? Has anyone else had this problem?
Here is a video on youtube I found of a dog doing the EXACT same thing as mine (warning: in the video, the dog's owner laughs at his choking dog..yes I know the owner seems idiotically cruel to laugh at such a time but this is the only video I could find of a Frenchie with the same problem as mine):
http://www.youtube.com/watch?v=SyOBSN8qVaQ