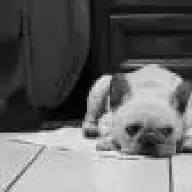 Joined

Jan 6, 2014
Messages

26
Reaction score

0
Hellooo guys. Well I have had this thought in my mind for awhile ever since I adopted Yoda. When I found out he wasn't fixed and that he held a really good blood line, the idea of having one of his pups grew on me. There are just those traits in Yoda that I would love to carry on to his off springs. Especially his temperament. Idk what his chances are to find someone out there that is willing to mate their female with him, so I looked into preserving his semen til that time comes. I looked into this route bc Yoda turned 7 today. I was like damn, he's getting old. I want to get things done while he's still healthy.

Does anyone in the forum have any experience with dog sperm banks? Any reputable places in NY/NJ area?

Just a thought. Was really curious.

Thanks for any responses.