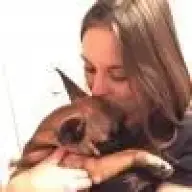 Joined

Dec 15, 2013
Messages

1,061
Reaction score

31
We got up early today because Maples very first conformation class started at 8 am.
Maple did great. She was the only French Bulldog Baby Puppy so she automatically "won" the class and got to compete against the other baby puppies of group 6. Maple was not 100% focused on me,I dont blame her at all. All the smells and noises going on and ALL THE DOGS, that can get a little overwhelming for a 4 months old
But I am very proud of her as she tried her best
The best baby puppy in group title won a keezhond and the best in group 6 an adult keezhond... Maybe favourite breed of the judge ,I dont know
But the judge said he thinks Maple is very well proportioned and he loves her temperament and happiness!