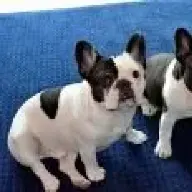 Joined

Aug 21, 2013
Messages

1,794
Reaction score

28
My name is Michelle and I just joined the site today. I currently do not own a Frenchie, but have been doing months of research on this breed and hope to own one before the end of 2013! I'm starting the rescue route first and see how that goes. I've owned Boxers in the past, having lost my last baby a little over 5 yrs ago (Candy) and she is missed terribly to this day (that will never change). I've finally felt like I would love to have a little cuddle bug in my house again, but a smaller breed and I've always loved the French Bulldog, although have never owned one. :w00t:
My husband, John and I have been married 12 years and have no children. He is an engineer for a local manufacturing (turbos) company and I work as an administrative assistant with a HVAC company. We love the mountains of North Carolina.
We have taken our first step toward adding a Frenchie to our family and I have actually applied
ray: for a Frenchie girl from FBRN (French Bulldog Rescue Network). Trying not to get too excited, but praying at the same time, as I know I am going up against many other contenders.
Looking forward to spending some time on this board and doing more research!