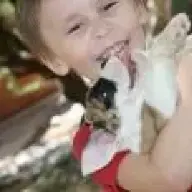 Well-known member
Staff member
Joined

Apr 6, 2013
Messages

2,090
Reaction score

37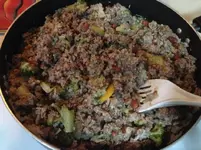 A picture of some home cooked food I couldn't help but to have some bites of myself!
I have been cooking now for my bullies for geez.... probably close to 2 years.
I pretty much use the same "base" and switch it up. I also give a NuVet on days I home cook as well.
Ground Chuck Hamburger, boiled. Drain fat/grease and add 2 cups water or broth. I will also add chicken, fish, or whatever else I may need to get eaten but usually it's just hamburger.
10% potatoes, rice, pasta, cous-cous, ect. (starch)
2 16 ounce cans of lentils (not drained)
or
1 cup dried lentils, soaked and cooked. I use mostly red kidney beans but will use just about any type and mix all the dry beans up for variety including chick peas and garbonzo beans, butter beans, black beans, pinto beans, ect.
10-15% veggies I usually use a Normandy style fresh frozen mix from costco, but they also have a stir fry, and also whatever I may need to use up in my crisper I will chop up as well. No onions, don't forget!
First I will cook the beans if they are dry beans, if not I cook and drain the hamburger, then add the starch and beans, then toss the frozen veggies on top. I will let it cook for an extra 45 mins or so until the starch is cooked.
I like to chop up the veggies into smaller pieces. I do not like to over cook the veggies or they will lose their nutritional value. So steaming them on top works well.
Each time I want to feed them I will put a large amount in a bowl and reheat it in the microwave for 3-4 minutes. Less depending on how much but I am talking about 5 cups of food.