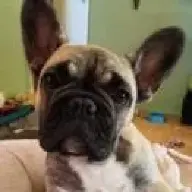 Joined

Aug 1, 2013
Messages

424
Reaction score

14
Oh Marg... What are we going to do with you?
So Saturday night, we had friends over for a drink and snacks. We made up some boneless hot buffalo wings (tossed in super hot sauce)... We were all enjoying our snacks and beer with the dogs of course at our feet, below the counter, begging for anything we would spare...
Well my husband being the messy eater he is, accidently dropped a boneless fire wing down on the floor and it landed right in front of Marg. Before I could even yell at her "no!" she inhaled the wing like the hoover she is.... No more then 2 seconds later she spit it out with a horrified look on her face! Poor little bug... I felt so bad! We brought her right to the water dish and she drank about a gallon.... After that she started drooling really heavy and her eyes we watering. I am just so thankful she decided to spit it out instead of swallow it..
Hopefully she has learned her lesson to investigate things first before swallowing them whole, but I doubt it. She is our little hoover vacuum....