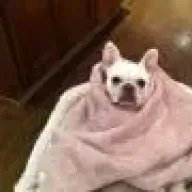 Joined

Aug 22, 2013
Messages

2
Reaction score

0
My Frenchie has had MRSP (methicillin-resistant S. pseudintermedius, which is a form of Staph that is highly resistant to many antibiotics) for about a year now. I joined this forum looking for advice from anyone who has gone through something similar.

He is on his third antibiotic because the first two did not fully clear the infection and he is now resistant to them. It actually appeared to have cleared but the bumps keep coming back. When we first got the results, about 9 antibiotics were on the list as "effective", 11 months later he now only has a choice of 4 because he as become resistant to the others. He is currently taking Baytrol (sp?) and has been on it for about 5 days. Although I do see some improvement the bump are not completely gone yet.

After a year of endless medicated baths, washing sheets and toys, strict diet, vet bills amounting over $1000 we are completely exhausted, and mostly worried this will never get cleared. Has anyone experiences anything like this? Any advice?