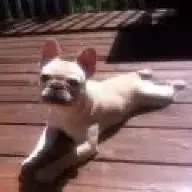 Joined

Jul 14, 2013
Messages

45
Reaction score

0
Louie is always scratching and rubbing his face, especially after eating. I've tried wiping his mouth after meals but that doesn't seem to help. He doesn't do it too long, just long enough to annoy me!!
Scratching, snorting, rubbing his face on the carpet and carrying on! His wrinkly little mouth is always a bit pink and irritated. My vet is really not concerned about food allergy but I can't help but suspect he is. I've tried a variety of different foods. Wellness, Merrick, Natures Logic, Small Batch raw, and currently on Brothers Complete grain free rotating with grain free raw patties. Tried different proteins - lamb, beef, venison, chicken, turkey, pork. *Sigh*
Still itchy. Is it normal for frenchies to be so itchy? I'm thinking about allergy testing, but just curious since he's my first frenchie if anyone else has an itchy faced frenchie
Thanks!!
Sent from my iPhone using
Tapatalk