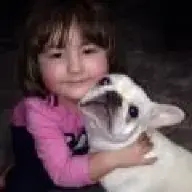 Joined

Oct 14, 2013
Messages

18
Reaction score

0
Hello! I'm Kristen from Louisiana (yes, a Cajun- that's the FAQ) and on Wednesday of last week, we brought home our first Frenchie, Nola. She is one year old and we bought her from her original breeder. She had been living since a puppy with an elderly woman who could no longer care for her. I read a lot about the breed and once I found this breeder, we knew Nola was perfect for our family.

We have a 3 year old daughter who was recently dx with a rare, incurable disease. She has been on high doses of steroids, chemo and other immune suppression meds that have left her sick, moody and isolated. Long story short, we thought a dog was a great idea. My cousin trains service/therapy dogs and we are hoping Nola will qualify.

I have lots of questions and interest in learning to do the best for her. My first order of business is to change her food. She's on Diamond Naturals now. She wasn't scratching at her previous home but is now. She's also constipated. It hasn't even been a week that she's been with us so maybe that is just stress? I'm not sure.

Thank you for any and all help and advice!