Hi
When we got our Thalassa, she was on Advance puppy protect dry food, and we done a research before so decided to switch to Orijen. Main reason was to get her proper quality food and enough protein - because frenchies grow big faster than other breeds. Her coat improved all shiny but she started to itch a lot. My wife took her to vet and got prescribed drops against fleas, mites etc There was an infection in Thalassas ears but its gone now after cleaning so thats not an issue anymore
She is happy , shiny and so to speak a ball of energy - except this crazy itching
I decided to change Orijen puppy to Acana Pacific, less protein and no chicken, she`s itching a bit less but anyway , I`m desperate to find proper food for her. I don`t want to go back to Advance or even worse - vets reccomended Hills , because thats almost the same as feed your dog straight from the trash bin.
Also tried couple days to feed raw lamb, she became incredible itchy and some dandruff in her coat appeared.
I guess this itch might be allergic reaction to something or food is simply too high in protein .... I would be very VERY happy if someone could give an advice what to do ...
thank you!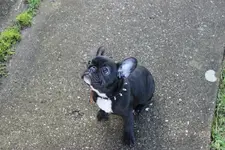 p.s. as you can see from that scratching skin around eyes is red and the same behind ears ...