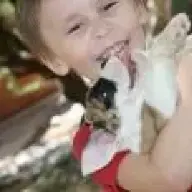 Well-known member
Staff member
Joined

Apr 6, 2013
Messages

2,090
Reaction score

37
At French Bulldog News we do use Third Party advertising to help pay for site costs. With new day and age advertising, the tracking within your computer and location of where you are will determine what ads you will see. So obviously if I am in Arizona it will not be very likely I will see an ad from a breeder in Kentucky. So this is where the reporting will truly help us all and maybe we will get something we will actually WANT to see!
French Bulldog News does not wish to support the following:
Breeders (we cannot verify if they are a scam or good or bad, so we would just prefer no breeder ads period) Although we do have breeder ads from ALL breeds as being blocked somehow some of them still squeeze in.
Junky pet food. No we don't wish to advertise for Purina or Kibbles n Bits! These companies use multiple site addresses and engines to promote their products.
Dating sites or other off the wall stuff, things that are not family friendly. No thanks!
Pet shops that sell animals.
If you find any of these in our site advertising, please let us know by sending [MENTION=1]bullmama[/MENTION] a private message. We can put a permanant block on any site if we have their website address.
We will need the full address of the site to block, for example telling us "French Bulldog News" will not work, but "http://frenchbulldognews.com/" is what we are looking for.
Thank you so much!