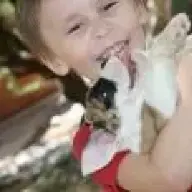 Well-known member
Staff member
Joined

Apr 6, 2013
Messages

2,090
Reaction score

37
Post here your favorite grooming products!

There is a whole list of tried and wasted... but here is my absolute MUST haves.

Malacetic Otic -- for basic daily cleaning
Malacetic Ultra -- for problem areas like yeast, hives, bumps, scabs or anything out of the ordinary. Has antifungal, antibacterial and steriod.
Panalog-- same as above, great for ear infections, downfall is it's presciption only, but great on irritated wrinkles and yucky tail pockets.
Pharmaseb Shampoo-- antibacterial/antifungal medicated shampoo

I did just try the NuVet Tea Tree Oil shampoo though, and I loved it. Not as much fragrance, better bubbles/suds, didn't dry out my hands as much, and more natural because of the Tea Tree Oil instead of acids and such. So this may be my new shampoo! Or errr.... ummm... I mean the bulldogs' new shampoo!