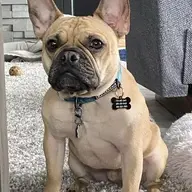 Joined

Feb 11, 2022
Messages

748
Reaction score

424
Something scary just happened to Rusty. If anyone has any insight or experience with something similar please help!

I was just sitting with Rusty as I always do, he curls up on the blanket on the couch(he has always done this).
He has had a head tremors before, which he has had a couple in the past couple weeks(usually it happens more during allergy flare).
The head tremors have hardly happened, the good food has helped greatly and when he does have head tremors, his head ONLY will move from side to side(bobble head we sometimes call it) and when I call him to get his attention, he is ALWAYS alert. I can talk to him and say where is your toy ball and he looks at me and is alert. The vet said it's head tremors last year cause he is alert(it's common in bulldogs/frenchies).

Today when he was curled up on the couch like always, he suddenly started shaking from side to side(from his front legs up to his head(like 1/2 his body almost was shaking) and he looked out of it and the first thing he did was SCREAM, that was the scary part, I have never heard him scream like this before, ever!
I called him to get his attention and he didn't look at me, he looked very out of it and he looked confused almost. He also peed on me and the couch and he wasn't aware he did it. Thats not normal and neither is the scream and he is always alert when I talk to him during a head tremor.
He also had TONS of drool from the mouth when this happened. Which never happens to him even when a head tremor happens, all this makes me think it could be a seizure cause no head tremor he has had has ever been like this.

This to me and my mom looked like he had a seizure. I have no idea what could have triggered this, and I am VERY worried/concerned about him now.

Other than him being allergic to the pollen and grasses/plants that are all in bloom now, that's the only thing to trigger an allergy reaction but he isn't red or looks like he is going thru a flare for allergies.

I haven't been giving him any omega 3 oil supplements because he is allergic to all fish now due to eating the herring oil daily a few months ago, and I haven't got any omega 3 now cause I don't want to add anything new to his diet now until I know his allergies won't flare.

He is back sleeping on the couch on me and he is moaning now for some reason.

If this is a seizure he had today, does anyone know of anything that helps seizures and what caused them???

Any insight on why this happened??

Any suggestions?
Anyone with experience or any input, please would be greatly appreciated. Im SO concerned☹️

Do dogs usually scream during a seizure??

Why would he have screamed???