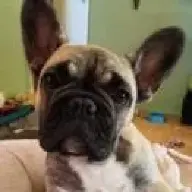 Joined

Aug 1, 2013
Messages

424
Reaction score

14
Hi everyone. We have been experiencing a new issue with Marg and I wanted to post and see if anyone has suggestions on how to work on this.
Marg is terrified of children. Marg is 7 months old and I don't think she has ever really been around kids before. My husband and I are newly weds and don't have kids currently, but in a year or so we would like to consider having them, so this is a big issue for us we want to work on now.
My friend brought her 1 1/2 year old daughter over to visit. She set her down so she could walk around, and marg went nuts! Barking at the baby, growling, kept running from her and then turning around and charging her. I only let this go on for about 5 minutes before I realized Marg wasn't calming down and accepting the baby, so marg had to go outside
....
Another scenario was with my 10 year old sister. I had Marg in her kennel. My sister came over while I wasn't home and let marg out. They had a blast playing on the floor with toys. When I got home, Marg's whole demeanor changed. She was barking at my sister when she sat down on the floor to play with her some more. (high pitched howling warning bark).
Is marg being protective? She never barks or growls at adults that are around me? Just confused why she is so apprehensive around kids? What can we do to work on this safely without putting any kids in danger (in case barking turned into biting). She is still so young so I'm sure we can work on this. Just never had this aggressive issue before where I was actually worried about a dog around kids.
Any training suggestions or insight on what is going on is appreciated!!
Sent from my iPhone using
Tapatalk