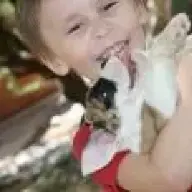 Well-known member
Staff member
Joined

Apr 6, 2013
Messages

2,090
Reaction score

37
So, you are new to the site and do not understand how the forums work? Here is a tutorial to teach you how to create a new topic. It is really quite simple, but if you don't know how you may be knocking your bully brain on the wall, and we don't want you to do that
The FORUM is the heart of the website. Almost everything that is on all the pages you find here comes directly from there.
So first, click on
"FORUM"
from the tabs at the top of the page.
Choose whichever forum would best suit your new discussion, and click on it.
Once you are there, you will see the
"Post New Thread"
button on the left side.
Click on it, and an editor will open for you to create your new topic. Click
Submit New Thread
at the bottom and you are done!
Once your discussion has been created, it will automatically post to the "Community", "Home", and "Whats New" areas.
Now wasn't that easy? Anytime you want to revisit your threads, just click on the
"My Account"
drop down menu and Choose
"My Threads"
.