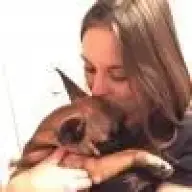 Joined

Dec 15, 2013
Messages

1,061
Reaction score

31
So Maple is now 12 weeks old.
She was first vaccinated at the breeder with 8 weeks old : Distemper,Adenovirus,Parainfluenza,Parvovirus and Leptospirosis(dont understand why)

Then again last week (so with 11 1/2) : Distemper,Adenovirus,Parainfluenza and Parvovirus.

We have an appointment for a third round on December 27th.
The vet told us to think about Kennel cough and Bordetellosis vaccinations but I already decided against it.
Now I have read and heard that some people only get their dogs vaccinated twice (and only the core vaccines) and some even only do it once when the pup is 12 weeks old (there are statistics showing that puppys that get vaccinated the first time with 12 weeks are very ,very likely to build up enough antibodies to protect them for a long time without having a second or third round of shots). I also read about fatal sideeffects and dont want to put Maple in Danger for a vaccination for a disease that is so super,super rare and/or quite easily treatable in a healthy puppy.

What do you guys think? And what is your experience?