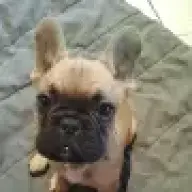 Joined

Jul 13, 2013
Messages

3
Reaction score

0
I have an 8 year old Border Terrier and a 5 Month old French Bulldog, the frenchie is not neutered yet, the border terrier is though. He likes to be top dog. The border terrier is passive while the frenchie pushes his way into everything. He doesn't like the attention to be taken away from him and given to the terrier.
If i call the terrier over to me, he will come in smack his bum in the terriers face and sit right in front of him and me!
If new people come into the house he'll jump at the terrier to push him out of the way. I'm in the process of getting him to sit and wait, and then, I can pet the terrier while he is sitting there, after a while he inches in and I have to go through the same procedure again.
It is funny to see it, but not so funny for the terrier, who's letting him do it.
I have to add that the pair of them get on great! The frenchie love the border terrier.
Any clues or ideas.
Are French Bulldogs known to behave in this manner or is it a puppy attention seeking thing.