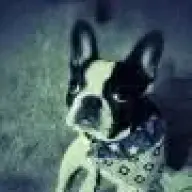 Joined

Aug 30, 2013
Messages

118
Reaction score

1
Hello!
Babette and I are new here. Babette is my first frenchie who I am absolutely head over paws in love with! I've had her for about a year now and look forward to meeting other frenchie enthusiasts.
A little information:
*Babette is roughly 23 lbs @ about 1 year old (we were told she was going to be huge ~ around 30 lbs! glad she's stayed relatively small)
*Her favorite treat is: anything she can get into that big mouth of hers, but especially ice cubes and whatever daddy happens to 'accidentally' drop while he's eating dinner.
*Her favorite activities are: napping, playing, and chasing the kitties around (we're working on that one!)
*She is a wonderful sport as far as being dressed up in ridiculous costumes by her mommy. Last year she was a bullysaurous!
*We are from California and the heat has been killer. Thank goodness for the air conditioner!
*We're still looking for a good brand of dog food, and considering adding elements of a raw diet into her current regime.
*She does seem to be suffering from allergies and chews her paws and inner back legs constantly. We've had many vet visits because of it, and ultimately suspect it's food related.
We look forward to hearing from other bullies, it has been a pleasure meeting you.