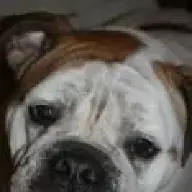 Joined

Apr 23, 2013
Messages

1,283
Reaction score

8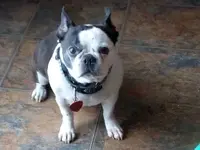 Location: Michigan
Age: 8 years
Sex: Spayed Female
Weight: 23 pounds
Kids: 10 years+
Cats: Yes
Dogs: Yes
Fenced Yard: No Preference
Adoption Fee: $250
***BITE HISTORY***
Bit Bit is on the hunt for her forever home! This gorgeous pied girl bounced around a bit after her original owner died, and was surrendered after an incident with the toddler in her home. The child woke her up unexpectedly and Bit Bit nipped, no skin was broken. She hadn't had any issues before and hasn't had any since.
Bit Bit is a healthy girl that could only stand to lose a couple more pounds. Her prior home indicated she had some periodic seizures. She has not had any in her foster home and the vet said if they are rare, no treatment is necessary. She must be monitored in the event she needs treatment in the future.
In terms of companions, Bit Bit gets along with cats (she will snap if the cat bothers her too much, but has never made a move to bite, it's more of a "Please, leave me alone"), other dogs (she shares her foster home with a Frenchie and an energetic young bullmastiff), and is very fond of the twelve year old boys in her foster home. Because of her nip incident, she should not go to a home with toddlers or young children or where kids visit. She also loves to chase squirrels, so a home with small animals would likely not be a good fit.
Walks, running around the house, and just hanging out with her people are some of Bit Bits favorite things. Her favorite toys are stuffies, nylabones, and antlers. She hasn't wanted to spend a lot of time out in the yard, but she isn't a fan of cold weather, so her feelings could change once the weather warms up. As she is entering her golden years, a home with someone who is less active is preferred.
Bit Bit will guard her food, so she has always been fed separately. She does not guard her toys. Bit Bit is house trained and will let you know when she needs to go out! She is crate trained but doesn't enjoy it. She will cry if she is in there while you are home, but is okay if you leave the house. She does fine with free roam of the house, however, as she does not have accidents and does not chew anything. She knows sit and does fine on a leash, although she will run ahead and tug, but not hard.
Bit Bit could be happy in many different types of homes as long as there are no toddlers. As long as the family had time to hang out with her and walk her a few times a week she would be happy. Apartment, house, condo, are all good with her! This sweet girl is okay if her owner works all day, but given time, could also adjust to going to the office with them. Bit Bit can get nervous in new situations. She will cry and shake, and it will take her a few days to settle in. Now she only cries sporadically at the vet, in the car, and if separated from her people if they are in the house.
Wanna adopt?
Please visit the French Bulldog Rescue Network's website and fill out an application. Click the Frenchie you are wanting to adopt, and you will find an "Apply For Me" button on their information. Please be sure to read their adoption process. Here is the link:
http://www.frenchbulldogrescue.org/adoption-info/available-dogs2/
To view more Frenchies from FBRN, follow this link:
http://frenchbulldognews.com/forumdisplay.php/38-USA-French-Bulldog-Rescue-Network
Please let them know you found them on French Bulldog News!