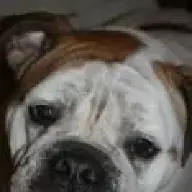 Joined

Apr 23, 2013
Messages

1,283
Reaction score

8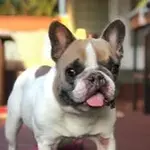 The adorable honey pied Tybalt has made his way onto the available page. This six-year-old boy was surrendered by his previous family when they stated he was having accidents during the night. Tybalt is an interesting Frenchie! He has loads of personality and makes noises that are almost like a cross between Sheldon Cooper, a velociraptor, and Steve Urkel.
Tybalt is ticklish all over his back and under his chin. When he gets excited he will squeal like a pig. When he is playing with his toys he can sound like a velociraptor. He also loves to collect things! Toys, dog beds, door stops, it doesn't matter what it is. He takes all of these treasures to his room and either puts them in his bed or lines them up next to him. Tybalt has four beds in his room and he will rearrange them and sometimes stack them on top of each other. Tybalt is a resource guarder with toys sometimes, but never from people only other dogs.
Occasionally, Tybalt will hold his breath almost like a small child pouting. True to both dog and small child form, if you blow a small breath of air in his face he will start breathing again! This often happens at the vet as well, and sometimes his tongue will turn blue. Usually, at the vet's office, if they stop touching him for a moment he will start breathing again. If he is touched by people or himself in a certain way on his side or belly, then he will start scratching like it tickles until he ends up tipping over from the scratching!
Tybalt must have his food softened and watered down in order to eat without issues. He has a cleft palate and this helps him to eat. While he eats, he should have a non-skid surface under him, as he has a hard time holding himself upright on slippery surfaces. He is stubborn (and spoiled) and may refuse to eat unless he's fed by hand. He also likes to have someone in the room with him while he is eating. We did mention spoiled, right? Sometimes Tybalt licks the air. This is not just another of his endearing quirks, this is actually his way of telling you that he is thirsty. Tybalt can need reminders to drink enough water to stay properly hydrated. He should also drink from a bigger bowl that is filled only about halfway to avoid him putting his nose under water while drinking. Tybalt is a resource guarder with food as well as toys, but only with other dogs, not people.
Tybalt likes cats, kids, and other dogs. He should be introduced to other dogs slowly, as he needs to feel safe in his new environment. Tybalt isn't a fan of fast movements, as they tend to make him a bit nervous. He is house trained, but must be taken out in the morning and before bed, as he might have an accident otherwise. Tybalt would do best in a home with Frenchie experience. He would do well as an only dog, but other calm pets would work with slow introductions. Tybalt should have his own space or room, as he likes to spend alone time but still be close to his people. He would be fine living in any type of home, as long as there are a minimal amount of stairs. Tybalt would not do well if left home for long periods without his people. He doesn't need someone that is home all day long, but at least part of the day. He would also make a great office companion!
This boy is very laid back and loves to sit and watch TV. He doesn't require much exercise, but he doesn't mind a short stroll down the street with his harness or chasing a few balls in the yard. Tybalt doesn't mind sleeping on his own bed, but he would rather sleep with his people and fall asleep watching Friends.
Tybalt's foster mom had this to say about him: "Tybalt should be in a home with someone who will love him. Plain and simple. Tell him he his handsome every day and give him kisses even though his breath will knock you over! But his smile makes up for it. I can't say for sure that is he special needs, but he definitely is special. Absolutely one of a kind! Sometimes before bed, he gets a little bit of whipped cream."
If you think you have the perfect place for this adorable personality, then look no further than Tybalt. All you need to do is fill out an application for him and be ready to pick him up if you are selected. FBRN does not ship dogs as cargo, so adopters are expected to pick up their dogs from their foster family.
FBRN dogs are in foster care in people's private homes. For the foster families' safety, we do not disclose specific locations, and we don't set up meet and greets prior to applications. For detailed information about the dogs in our care, please read the extensive bios on each dog.
ABOUT TYBALT:
Tybalt has brachycephalic airway syndrome and a cleft lip. He had a minor nares resection and a soft palate resection on 04.21.2020 (along with neuter and endoscopic foreign body removal) but remains symptomatic, so his breathing must be monitored during exercise or play. Tybalt must wear a harness when going for walks, never a collar or choke chain. Tybalt has a history of dental, nasal, and ear infections which must be monitored for recurrence.
Tybalt had what is presumed to be two very short seizures while in foster care. He has been observed for several weeks and there has been no further seizure-related activity. He must be monitored for any potential recurrence.
Tybalt is a resource guarder with other dogs so must never be around small children. He must be monitored during feeding and when toys are present. A slow intro is required if there are other dogs in the home.
Tybalt is housebroken but may have occasional accidents in the house.
View attachment 4820
How To Adopt:
Please view the adoption process and fill out an application at their website ---> FB Rescue Network
To view more available Frenchies from this rescue, click this link ---> FBRN
Thank you for considering adoption for your next family fur-mate!
Please let them know you found them on French Bulldog News!