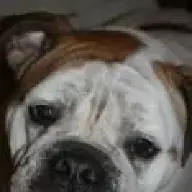 Joined

Apr 23, 2013
Messages

1,283
Reaction score

8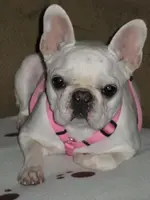 Location: East Central Missouri
Age: 4 years
Sex: Spayed Female
Weight: 20 pounds
Kids: Yes
Cats: Yes
Dogs: Yes
Fenced Yard: Not Required
Adoption Fee: $500
Although Carrae has no definite diagnosis, she possibly suffered from HGE (hemorrhagic gastroenteritis), enteritis, and/or colitis. She will always need to be watched closely for stomach upset, but with diligent control of her diet she may not have a reoccurrence. While she is currently on a prescription diet, she could likely transition to a limited ingredient diet in the future. Before coming to FBRN, Carrae had surgery on her knees, and should be monitored for any changes in her gait or mobility.
Carrae gets along with everyone! She previously lived with children, and loves people of all ages and sizes. She shares her foster home with a cat and loves all dogs, especially ones her own size and energy level. Carrae is generally submissive with other dogs and has no food aggression, but she can get a little rough when playing. The perfect canine companion for her would be a slightly more active than average Frenchie. Most of all, however, she thrives on human companionship, and would be perfectly happy to enjoy a good walk followed by a snuggle and nap on the couch.
Miss Carrae is housebroken, and *gasp* will even tough out the rain (that's unusual in this spoiled breed)! While technically crate trained, Carrae does not enjoy spending her time there and will complain loudly and incessantly. She doesn't have any formal obedience training, but she is very eager to please. She enjoys chewing Nylabones and playing tumble and chase with her fur siblings, but only if her human is close by.
Carrae would be happy with just about any family. Given her sensitive stomach, however, a home with adults and children old enough to know what not to feed her would be ideal. Although she will happily cohabitate with cats and other dogs, she would be equally happy as an only pet. If she will be spending time home alone (even for a few hours), she will need an animal companion to keep her company, because she will complain loudly and for hours on end about her solitary state. Because of this, she would not do well in an apartment or condo. A fenced yard is always a plus but isn't required as she will not stray far from her people and will immediately respond to her name. Sharing the bed with her people is must, however, as she will protest sleeping on the floor or in a crate.
Ideally she would be in a home where someone is home all day, but if that is not possible, she will need a sitter, dog walker, or doggie daycare to keep her happy. She would also make a wonderful office companion and door greeter! She has never met a person she doesn't like, and she is just a sweet, happy little girl.
Wanna adopt?
Please visit the French Bulldog Rescue Network's website and fill out an application. Click the Frenchie you are wanting to adopt, and you will find an "Apply For Me" button on their information. Please be sure to read their adoption process. Here is the link:
http://www.frenchbulldogrescue.org/adoption-info/available-dogs2/
To view more Frenchies from FBRN, follow this link:
http://frenchbulldognews.com/forumdisplay.php/38-USA-French-Bulldog-Rescue-Network
Please let them know you found them on French Bulldog News!