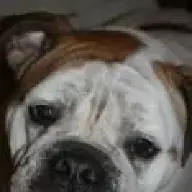 Joined

Apr 23, 2013
Messages

1,283
Reaction score

8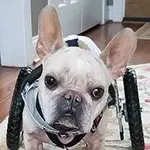 Vroom vroom! Justice has finally rolled his way onto the available page. After incurring a second back injury leaving him hind-end paralyzed, Justice was surrendered to FBRN. Now, after months of amazing foster care, he is ready to find his forever family.
Because Justice is hind-end paralyzed, he gets around by hopping and scooting when not in his cart or by rollin' in his fancy wheels. He requires some motivation to use the cart while outside but has won some cartless speed races while inside the house. Potential adopters need to be aware of monitoring for and protecting his hind-legs and tops of paws from sores created by the pressure or friction of dragging himself (examples are using a drag bag, doggy clothes, dog beds, soft human laps, etc.)
When Justice first arrived in foster care, possibly due to some allergies and unprotected paws, his skin and fur had definitely seen better days. Bald patches and scabs were a plenty! But, with a special diet (prescription Hill's z/d or Zignature Trout and Salmon) and meticulous skin care, his coat and skin are now clean and healthy. He will require diapers, wipes, clothes, several beds, and regular grooming at a minimum.
Also due to his paralysis, Justice does not have control over his bladder or bowels so he will need to expressed 4-5 times a day to manually empty his bladder of urine. This type of (potentially daunting) task can easily be learned by potential adopters. Justice is not on a predictable bowel schedule and might defecate during bladder expression. You may also find a stray poop here and there and over there. Diapers will keep this contained and his stool is usually formed (i.e. easy to clean up) as long as there are no drastic changes to his special diet.
If his back injury and allergies weren't enough for this sweet muffin, he also had a mast cell tumor that was removed with clean margins. Justice is on medications (Benadryl and Tagamet) due to this history and should be monitored routinely for any new masses. He is also on probiotics and cranberry to help support his digestive and urinary health.
Don't let Justice's sweet face and special needs fool you. He can be an energetic and super playful pup! When meeting new people or while impatiently waiting to go outside, he can be a little (or a lot) mouthy so keep your pant legs and shoes in check! Due to the relatively quiet nature of his foster home, he has calmed down quite a bit since first arriving. While he would love to play with other dogs, his current canine foster siblings aren't much the playing types.
If Justice doesn't have willing canine playmates, he is just as happy to have a human lap upon which to sit. Justice loves people! If you have small young people in your family, they should be old enough to know how to properly pick up and handle Justice to prevent any additional injury.
Justice would do well in just about any type of household as long as his new family is willing to carry him up and down any stairs (you can start your training regimen with a frozen 22 pound turkey). He would love at least one person to be home with him on a regular basis for companionship and he needs someone to express his bladder at least every 4-5 hours during the day. Justice could also accompany you to the office and everyone could take turns with him in their laps! He loves human attention.
Foster mom says, "Justice is all boy; and thus, my husband adores him. However, he is like any dog and will need to learn the rules of his new home. He is food motivated, but training will take patience and consistency. Having said that, he is relaxed most of the time and hangs out with the other dogs if they will let him or lays on one of his many soft beds. I think if someone had a playful dog, he would really enjoy that. The other big issue is that he must have a touch of IBS or something so no deviating from his diet. But honestly he is in maintenance mode now and is a typical velcro frenchie."
If a special needs pup is right up your alley, apply for sweet Justice. You should be financially prepared to support all of his needs and will need to hustle to Virginia if chosen. Justice doesn't enjoy car rides very much; he will whine when stopped at traffic lights (not unlike some adult human drivers). When he must travel, a secure seat is mandatory. FBRN does not ship dogs as cargo. Adopters are expected to pick up their dogs from their foster family.
FBRN dogs are in foster care in people's private homes. For the foster families' safety, we do not disclose specific locations, and we don't set up meet and greets prior to applications. For detailed information about the dogs in our care, please read the extensive bios on each dog.
About Justice:
Justice suffers from hind end paralysis, is incontinent and has a cart for supervised use. He must always be carried up and down stairs and must not be allowed to jump off furniture.
Justice has allergies and a history of skin infections that must be monitored for recurrence.
Justice had a mast cell tumor removed on his right thigh. Histopathology revealed that the tumor removal had clear margins. He should remain on daily Benadryl (diphenhydramine) and Tagamet (cimetidine) to help prevent recurrence. Justice should be monitored for recurrence.
View attachment 4820
How To Adopt:
Please view the adoption process and fill out an application at their website ---> FB Rescue Network
To view more available Frenchies from this rescue, click this link ---> FBRN
Thank you for considering adoption for your next family fur-mate!
Please let them know you found them on French Bulldog News!