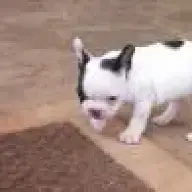 Joined

Sep 13, 2013
Messages

124
Reaction score

0
I picked up Cortana yesterday
She ate when we got home and took a nap. We played for a bit and she went to sleep again in my lap.
She cried alot last night even though I was holding my hand in the crate. Today she will only eat if I hand feed her ( Same food the breeder had her on. which I don't want to get started) or if its a treat.
She is also licking,biting her left front paw and right front paw. They look clean and pink. No redness or swelling. I've wiped them down with baby wipes for puppies.
Could this be the stress of the trip (Airplane) and the new surroundings?
I hope this is just stress.
Not the best picture. I'll try later to get more