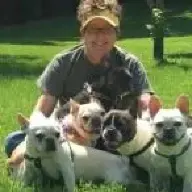 Joined

Aug 20, 2013
Messages

1,374
Reaction score

37
Well, Mike and I have been on another emotional roller coaster today... Got up this morning and Gidget couldn't. She could not stand on her own or walk. She was fine yesterday/last night, so this happened sometime during the night. We got her immediately to the vet and were referred to Va Tech. The vet explained to us that there were 3 possibilities. 1. A congenital defect that hadn't been apparent until now. 2. A blood clot in her spine ( there was a med term for it that I can't recall now) and 3. Like a herniated/bulged disc. So, she stayed there for X-rays and observation. X-rays have not shown anything abnormal with her spine so she stays for MRI on Monday. Good news is that she is able to stand and walk around the ICU, unsteadily but she is up.

Mike and I are at a loss without her... She really is the energy of this house. Such a happy bubbly dog. She knew something was terribly wrong and was really scared.

Just now got off phone with Tech.... She is resting comfortably... Talking to them... Is able to stand unassisted and walk and urinated on her own. Still on track to be transferred to neurology on Monday.
Please keep all of us in your thoughts.