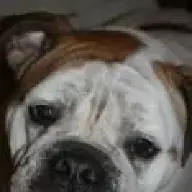 Joined

Apr 23, 2013
Messages

1,283
Reaction score

8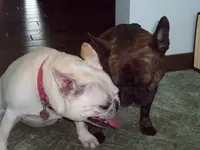 Location: Minneapolis/St. Paul area
Age: 3 years old/3 years old
Sex: Male/Female
Weight: 32 pounds/26 pounds
Kids: Yes
Cats: No
Dogs: Yes
Fenced Yard: Preferred
Adoption Fee: $1100.00
The dynamic duo, Milo and Heather, are ready for their forever home! These two gorgeous Frenchies are biological brother and sister. They came to FBRN when their former owners didn't have the time or money to deal with them. While we were sad for Milo and Heather, having to be displaced from the home they knew since puppyhood, it was our gain. These two are awesome Frenchies with personality plus! They need to be adopted together as they are bonded
Both Milo and his sister Heather are crate trained and completely housebroken. They both even know a few commands and since they're smart as can be, a few obedience classes – which by the way are great bonding experiences – would be great fun.
Milo loves to play and he plays hard. Then naps! He doesn't get much of a chance to play with toys--in typical Frenchie-princess fashion Heather tends to hog them all--but he still has fun. His second favorite thing to do is eat. Milo definitely enjoys his meals and treats.
Heather's favorite thing is to be Number 1! She is very dominant and seems to be quite comfortable in that role. She and Milo have their roles together worked out very well. Heather has no bite history but she is food aggressive with other animals. She is very polite taking treats from the kids in her foster home, but if something falls on the floor, it is hers and there is no convincing her otherwise. Heather and Milo would need to be fed separately, either in their crates or just in different rooms. Heather is fine with humans around food and has never growled or shown food aggression toward her human foster family. Just other animals.
Heather loves stuffed animals. She carries them all over the house and leaves them in her favorite place of the week. Her favorite place can change but it's easy to figure out. Just look for the stack of stuffed toys. She enjoys playing tug and if she's in the mood to play and there are no toys around, this creative sweetheart will improvise! Blankets, socks, dishcloths…she'll play with them! Not to worry. She won't destroy them. Just play with them.
Milo would do well in just about any setting and would even make a great office companion. Heather, not so much. Heather is a vocal lady and will bark at things. She's also a talker and likes to bark and vocalize when she needs to go out. Because of her barking, an apartment or home with a shared wall would likely not be a good option.
Milo shies away from the spotlight so a home with multiple people would be great so he gets his fair share of love and attention. A fenced yard is preferred as these two don't like to potty on leash. Heather overheats easily so she wouldn't be a walking or jogging partner. Quick trips out to the fenced yard to potty then back into the house are best for Miss Heather.
Wanna adopt?
Please visit the French Bulldog Rescue Network's website and fill out an application. Click the Frenchie you are wanting to adopt, and you will find an "Apply For Me" button on their information. Please be sure to read their adoption process. Here is the link:
http://www.frenchbulldogrescue.org/adoption-info/available-dogs2/
To view more Frenchies from FBRN, follow this link:
http://frenchbulldognews.com/forumdisplay.php/38-USA-French-Bulldog-Rescue-Network
Please let them know you found them on French Bulldog News!