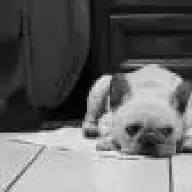 Joined

Jan 6, 2014
Messages

26
Reaction score

0
Like all the animals I have ever had. I always joined a forum to get more info and talk about them. Hopefully this is the place to go. This forum looks pretty nice. I just recently adopted a 6 year old French Bulldog
. The owner did not have time to take care of him since his first child was born. He has skin issues so between that and his age, no one was really interested and I knew he was going to either go to a crappy home or end up being in a shelter. So thought I'd take him home and have him tag a long in this journey called life. I just wanted to post up and introduce myself bc I will most likely be here often.
It's been 4 years since my Lab passed away and I've been out of the loop. Can some one give me some input in best websites to purchase products and items etc.
And what do you feed your Frenchie?
Hello from Yoda!