Joined

Jul 9, 2013
Messages

8
Reaction score

1
Hello again,
So far tina is doing great in almost every aspect... but we need a little help on how to leave her alone without stressing her too much. Here is the situation:
Both Laura and I work, but Laura does a lot of home office. However sometimes she goes out, for as much as 5 hours, let's say 2 to 3 times a week. Tina is left alone, confined to the kitchen area and the entrance corridor. This is a small area (6m2 or 60sqft aprox) and is also where she sleeps. She is trained to poop and pee in a designated space with news paper (she is still not interested in reading it.. simply poops on top of it
) and in the other corner she sleeps and eats.
So far when left alone for 2 hours after play time, with a nice apple filled Kong or a nice chewing treat, she does ok. But if left for longer hours we usually find poop where it shouldn't and yesterday... she scratched a good slice out of the entrance door.
We are wondering, how to can we manage to train her to be left alone for at least 5 hours a day without being scared to find the house on fire when we come back.
Additionally, she has not finished her vaccination program so we can't take her out for long walks or to the park... or even a puppy day care, which we are more than happy to do.
Here is an updated pic for your amusement: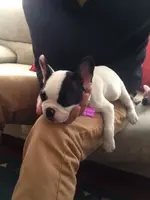 Cheers!!
Laura and Ben.