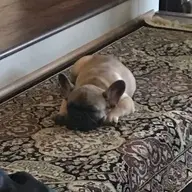 Joined

Dec 31, 2014
Messages

1,994
Reaction score

203
We have a ten-week old (today) puppy. He's been with us for three days. He was crated his whole life, with mama and after he was weaned. He was the only puppy and crated alone. The good thing is he sleeps through the night in his crate no problem whatsoever. My husband and I let him out four times (every three hours bet. 7:30 PM - 7:00 AM), and he goes right back to sleep immediately. It's been freezing here and it's hard to spend any more than 10-15 minutes outside, although he has a little jacket. Inside, I play with him for good stretches but I feel like I am constantly trying to divert his chewing on furniture, shoes, etc., and biting by substituting with a toy. I think I've taught him a firm "No bite," but he's pretty much a maniac. It feels like a case of two steps forward, three steps back. He is doing great on "come" outside and with his potty training. I don't know if he "gets it," but I feel like I have a good handle on his habits and know when to take him out. So far, all poops have been outside and all pees except three. Considering how often he goes out and pees, I think that's pretty good. No messes in his crate. I don't know if it's possible at his age and so soon after we've had him, but he seems to enjoy cuddling with me and being cooed at petted (all the time while chewing on something). He's on our bed a lot with our other dog because that's where I watch tv. I do play with him in the living room, but because of my back (I'm 63), I can't get down on the floor to play with him and have to sit in a chair. Last night, he actually passed out on our other dog's toy stash and blanket under the dining room table. I am so happy when he is sleeping!

Biggest issues now are going after our feet and shoes whenever we walk and crossing in front of us and in between our legs when walking. I've corrected the ankle biting (!) with a firm No, but I'm not sure how to get him to walk next to us. When should I introduce leash training? The other issue is his persistence in trying to get our Chi to play. He is really over the top and isn't much phased by Petey's correction.

I know he is new and learning, but how long before they become semi manageable? He's a maniac!