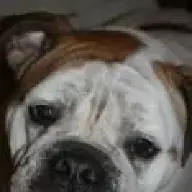 Joined

Apr 23, 2013
Messages

1,283
Reaction score

8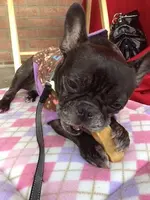 Location: Southcentral Michigan
Age: 5.5
Sex: Female
Weight: 22 lbs
Kids: Dog Savvy 5+
Cats: No
Dogs: Almost certainly not, see bio.
Fenced Yard: Not required
Adoption Fee: $500
If you have other dogs, you *MUST* be experienced with dog snarkiness (ability to identify the signals) and it would be better if the resident dogs were passive. Maeve really only gets into spats with the Frenchie in her home, who also tends to be dominant. She and the pug (very passive) are fine together. Maeve is okay with most dogs. Her foster mom wouldn't say she is "dog aggressive" because she can be in a room with a lot of dogs, has represented FBRN at several meet and greets/fundraisers, can go to dog parks and goes to an open play doggy daycare - however, if she is confronted or if she is not feeling well or is tired, she will not back down and there will be an altercation. She has bitten the Frenchie in the home (not seriously!) but there has been a little blood. She has never started anything with the passive pug in the house.
That said, preference would be given to a home where Maeve is the only dog.
Maeve has separation anxiety that is manageable with medication and a routine. When her foster mom is going to leave Maeve alone, she gives her a Clonazapam (less than $0.50 per pill) about 30 minutes before she leaves. Maeve is crated all day while her foster mom is at work and 99% of the time she is fine. Maeve also gets a peanut butter kong when she will be crated. She will loudly protest if she is not happy though, so a home without shared walls is required.
Maeve also has allergies - her muzzle will physically turn pink when she is itchy and the spaces between her toes also turn pink. She is on a grain free diet (including treats) which combats the problem. If she seems itchy, she gets a quick bath with an anti-itch shampoo.
Wanna adopt?
Please visit the French Bulldog Rescue Network's website and fill out an application. Click the Frenchie you are wanting to adopt, and you will find an "Apply For Me" button on their information. Please be sure to read their adoption process. Here is the link:
http://www.frenchbulldogrescue.org/adoption-info/available-dogs2/
To view more Frenchies from FBRN, follow this link:
http://frenchbulldognews.com/forumdisplay.php/38-USA-French-Bulldog-Rescue-Network
Please let them know you found them on French Bulldog News!