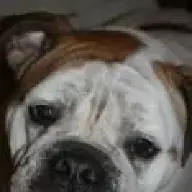 Joined

Apr 23, 2013
Messages

1,283
Reaction score

8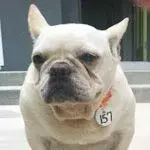 Persy is ready to put down some roots and find a forever home to flourish in. This sweet girl has not had the easiest start to life, as she was rescued from a puppy mill breeding situation, but she has lots of love to give and is looking for a the perfect home to pamper her during her golden years.
Persy is such a happy camper and just goes with the flow in her foster home. After living many years without freedom while in the puppy mill, Persy is now finally getting to live her puppy years the way they were meant to be. She loves to destroy her stuffie toys. It's one of her favorite past times along with chasing and eating leaves in the backyard, chewing sticks, and wrestling with her foster fur brother. Her favorite treats are baked sweet potato pieces and bacon (really, the bacon goes without saying. Every Frenchie loves bacon)! She loves having her belly rubbed and snuggling in bed or on the couch but is not a dependent dog who needs to be by your side at all times.
Since Persy is, for the first time in her life, living outside of a crate, she will get into mischief if you don't keep an eye on her. She likes to nibble and sneak away with socks, shoes or whatever might be lying around. So don't leave anything lying around! That is...if you like it in one piece! She takes correction very well and will stop immediately and knows she was naughty. She definitely does not need serious exercise. She has just started to enjoy her freedom and is getting used to going on walks. She is fine with one or two walks around the block or a couple wrestling matches with a friend. It took her a couple of weeks to even play with a toy or with one of the other dogs and now she is making up for lost time!
Persy is very mellow and easy going and she would be a great addition to any family or living situation. She can live with a single person, adults, or family with kids as long as kids are respectful to her and don't overwhelm her. Well-behaved, dog-savvy kids only need apply! No bronco-bustin' Frenchie riders or door leaver-ajar-ers. No. Other dogs would be a HUGE plus. First time Frenchie owners are ok if they have researched the breed and understand puppy mill behaviors. Persy can live in an apartment or home without a fenced yard as long as she gets regular potty breaks, but adopters should expect that housebreaking will be an ongoing effort; it's just part of the puppy mill rescue experience. Persy is also a great dog to bring with you to the office. She loves meeting new people and will stay in her spot and play with her toys all day long.
Persy is still working on becoming housebroken. After living in a puppy mill her entire life, peeing in the grass is a new experience! She will go on pee pads if you leave them down for her but still has accidents. She is still having a hard time getting used to walking around in and on grass but she will potty outside in the grass if her people are with her. Sometimes her foster parents physically have to pick her up and put her outside so she knows it's time to go. She will potty when out on walks too. Her forever family must be dedicated to teaching her. Either that or they must not mind cleaning up pee pee puddles
Wanna adopt?
Please visit the French Bulldog Rescue Network's website and fill out an application. Click the Frenchie you are wanting to adopt, and you will find an "Apply For Me" button on their information. Please be sure to read their adoption process. Here is the link:
http://www.frenchbulldogrescue.org/adoption-info/available-dogs2/
To view more Frenchies from FBRN, follow this link:
http://frenchbulldognews.com/forumdisplay.php/38-USA-French-Bulldog-Rescue-Network
Please let them know you found them on French Bulldog News!