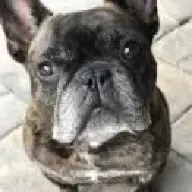 Joined

Apr 6, 2013
Messages

7,882
Reaction score

224
So closing the camper yesterday was not fun. Just as I thought, walking into the trailer flooded me with memories of Queen Penny. Of course, since the last time we were there, we didn't expect to not come back, so there were dog toys and bones and stuff everywhere in the Florida room. Oh how Penny & Pearl loved to play with us, my children, and ours and their campground friends! I found the first toy I ever personally brought for Penny. Since she was a Frenchie, he had it ingrained in her being to destroy any toy! Exterminator dog! I got her one where the stuffy was surrounded by a plastic cage. She was never able to wreck this one. I also grabbed her golf cart goggles.

My wife and I were pretty emotional on the ride home. Everything sucks without Penny. The therapy dog we didn't even know we had it seems. Glad I am not going back to the campground until spring. Maybe I'll be in a better emotional place by then. The holidays are going to be different this year, Penny was the center of attention always, just because of who she was. Little dog with a huge personality.

I think I backslid yesterday. Not sure how many %, but it was a lot.

I'm trying to carry on better today.
You will have set backs .. all part of the grieving process. At times, I swear, I smell Nitschke or hear Banks bark... both gone for many years and we have two current babies. They are always with you
Sent from my iPhone using Tapatalk