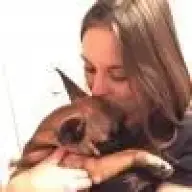 Joined

Dec 15, 2013
Messages

1,061
Reaction score

31
Okay I know everybody has a different opinion on this topic but Id like to bring it up anyways
The "official" frenchie colours are brindle,pied,fawn and cream? Did I forgot any?
Now we all know that there are mouse/blue coloured beautiful frenchies as well. In fact Maples dad is a blue ("shark" ) frenchy from Hungary. Yesterday I found a breeder on the internet that breeds frenchies and english bulldog in "rare " colours. Their puppys sell from $6000 up $10000, and most of them were sold so people actually do spend that much money on them. I found what is called a "dark sable " frenchy which looks 100% like Maple. I thought she is a red fawn,but now I realized she is a sable.
Has anybody heard of this colour before? Is this an "official "(AKC /CKC) Frenchy colour?
This is Maple