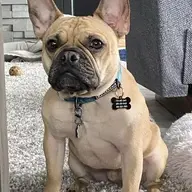 Joined

Feb 11, 2022
Messages

748
Reaction score

424
Rusty started drooling a scary amount of drool(Puddles were continuous) Thursday and Rusty was in pain and crying the next day in the morning, which is why I took him to vet, I wiped his face where it was wet but it was continuously drool without stopping and crying in pain. Teeth and gums were good. 5pm to 10:00 am of non stop drool and crying in pain. He vomited 1 time(yellow foam) before drool started as well.

Rusty Never drools, not one bit even for food. He looked SO unwell and sick and painful to move around from his joints from overplaying with my other dogs(he did fall on his side a few times hard from jumping at my other dogs to play), which I think was him sore from the day before.

So acid reflux and joints are sore from overplay vet thinks as well as
now Rusty's middle of his spine to the very end was sore(didn't make any noise of pain, but the look in his eyes squinting like 'ouch'), he had laser therapy today for it and it was very likely from him falling hard when he overplayed with my other dogs the day before non stop drooling.

I already added another Joint supplement to help him heal, started him on it the night we noticed his joints were more sore. Which seems to work, he seems a little better each day, although last night more drool started but not for long and not as much, which is the acid reflux.

Because of the spine being sore from the fall during playing with my other dogs, his back leg has seemed to be weak a few times I noticed, but not all the time. Thankfully he can still use all 4 legs.

This was the very first time he has ever drooled(and it was TONS of puddles), and first time he has cried in pain.

They are such a worry, but such great dogs and think they are big dogs that can play no matter what.

It's crazy how they hide their pain/sore spots and still want to continue playing. He still is trying to play with my other dogs.

I will definitely not let him overplay, and limit when they all want to go crazy playing. Although we can't stop them from falling and getting hurt unfortunately. That can happen so easily. 🙁

For Rusty, the drooling was a sign of pain, and also acid reflux.

I hope we caught it early and he can heal fast! The laser therapy should definitely help him heal faster and lessen the pain/sore back.

We have never been in this kind of situation where a dog is in pain, drooling and crying!

I sure hope he heals fast since we caught it quick hopefully.

A couple questions:

For those who have done laser therapy for the dogs, how long does it take to see improvement in the sore areas of pain??

Do you find it heals them after 1-2 laser treatments, or 1 treatment and they are pain free in a week??

We get laser treatment for him as a maintenance/preventative but not yet has it been needed until now for pain/sore areas.
Last edited: