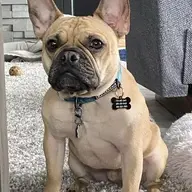 Joined

Feb 11, 2022
Messages

748
Reaction score

424
Rusty went to the vet today, and she said he likely has IVDD, she showed us his 'weak' spot in his back and that's what she thinks caused the scream the other day and liklely was back pain and fear not a seizure, but she isn't 100% sure.
She thinks he peed himself out of fear and pain.
She did bloodwork which we will get back tomorrow, hopefully everything is ok in bloodwork.

He can still use his back legs but his back right food/leg takes longer to fix when she moves his foot around(he sometimes has his paw upside down-bottom of his paw facing up) which he does fix/correct himself but it isn't as fast as his other leg.
But she said he is sore in that one spot, which has a curve on a X ray before(about a year ago she brought it to my attention).

This is not my regular vet, i know a vet who is my neighbor and she wanted to do bloodwork sooner to rule out any other issues. Since the appointment at my regular vet who we have gone to for 8 years, didn't have an appointment until 1 week so on Tuesday I will take him to my regular vet for her opinion. In the meantime I wanted to make sure he would be ok and check bloodwork.

This is my biggest fear since I got Rusty. He is 3 years old, and is my best friend.

I never let him do stairs, jump on/off couch, or jump on anything. I carry him upstairs and downstairs, and put him on and off the couch, I have been doing this from day 1 in hopes of preventing IVDD, but unfortunately it didn't work out like that☹️
The vet I seen today didn't say to get a neurologist, but my regular vet I'm seeing on Tuesday might want to send him to neurologist but I'm not sure.

He was sent home with Metacam which I have never gave him for a long time cause he got sick on it and it is known to cause joint problems, and kidney issues and other side effects, for the pain and inflammation I always give CBD oil instead.
I hope I will never have to use it on him.

I never knew he was in back pain.

I have gave him some CBD oil for pain and inflammation tonight, and will continue.
Thankfully he can use his lags still, but I still fear that.

So my question,
What do you use to maintain the back health in your dogs with IVDD???

do you give CBD oil every day??
What other foods/supplements do you give them??

Do you give Omega 3 too? I'm considering Green Lipped mussel oil for omega 3(Safe Sea from Four Leaf Rover brand) as he is allergic to herring, doesn't like salmon and is allergic to all other fish in fish oils.


Im also giving him bone broth, probiotics and his regular supplements he requires to maintain his urine to keep him from getting more crystals. All This he has been on for 1 year, no issues.


Rusty is my baby, and I will do anything to keep him in good health.
He is such a sweet, funny, affectionate boy!
He is the best dog I have ever owned, I love him to pieces!

If you have any info or tips that you have done or recommend for maintaining the back in a dog/Frenchie with IVDD??

Anything else I should be giving that would be beneficial???
I try not to use medications from the vet as much as possible because of the side effects.

Do they need to have MRI done to officially diagnose IVDD?? Can something fix this-surgery or therapy??

Anyone with experience or knows someone with this issue, please let me know what you use to support the back, and what supplements/suggestions that have helped.

Anyone see a neurologist for IVDD??

I would appreciate any feedback, advice, help!