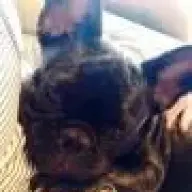 Joined

Dec 30, 2013
Messages

40
Reaction score

0
Hi,

I've been training Valentina, now 7.5 months old, with pee pads as well as going outside. She had bladder infections for the first month I had her (had her 3 months now) so the pads were necessary. I'd like to ween her off them now though so I can start leaving her out of her crate in my gated kitchen. The only thing I'm worried about is she pees pretty often when she's out of her crate. I'm not sure if she just has a small bladder or if has to do with her training.

Recently I've been closing the gate in the kitchen so I can see if she tries to go over there and take her out. Its hard to tell though since her crate is in there so sometimes she just goes in for her toys or to hang in the crate. She's been pretty good with going on the pads (except for last night when she peed in her bed in my bedroom which I think she did out of spite bc I only let her sleep in there on the weekends or if I come home really late!). I've been taking her out to one spot and waiting until she pees, which sometimes takes up to 8 mins. She will never really poop right away but does most of time after she walks a bit. Sometimes she pees 2-3 times on our walks which are 15-30mins. And sometimes she'll pee again after we get back home!

Anyone have experience/advice on this?

Thanks!!