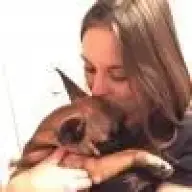 Joined

Dec 15, 2013
Messages

1,061
Reaction score

31
I entered Maple into her very first dog show in two weeks.
Since she is only 4 months old I entered her into the baby puppy class. She is the only baby puppy French Bulldog. So does this mean she automatically "wins" the breeds baby puppy class? What happens next? Does she compete against the other baby puppy of group 6 or does she compete against the other French Bulldogs(adult and senior puppy) for best in breed?
I think I read somewhere that they treat the baby puppy class differently or rather seperately so its baby puppy best in breed,then baby puppy best in group and then baby puppy best in show ? Is that correct?
When I filled out her entry form I couldnt remember her parents names and her CKC papers are still being processed so I put down sire/dam unknown. I was now able to contact the breeder and he gave me maples parents names. Should I somehow try to change that on her entry form? Do the judges prefer dogs where parents are known?
And one more last question : How long before your turn in the ring should you be there? Group 6 starts at 8:00 am so I was thinking maybe be there for 7 am?
Sorry, I am a total noob to all of this
P.s Could someone please remove the exclamation mark infront of my topic/question. No idea how it got there,but it wasnt my intention