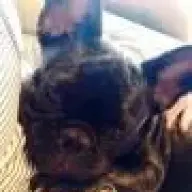 Joined

Dec 30, 2013
Messages

40
Reaction score

0
I was wondering when you can start giving puppies more freedom from their crate. I've had Valentina a month now and she's been doing pretty good with crate training. She has been going outside and on my balcony and she's learned to go on the pee pads by the balcony door if I don't see her scratching at the door. The only accidents she's had I think were my fault. She pooped once in the living room but I didn't give her enough time to go outside. Then she peed the other day but I had a few ppl over and I think she was too excited.

I really want to start leaving her in the kitchen with her crate soon. The other day I left her with a chew when I had to go out and it fell out of her crate! I felt so bad, she was crying and barking when it happened!

So how do you when they're ready??