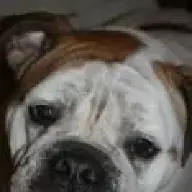 Joined

Apr 23, 2013
Messages

1,283
Reaction score

8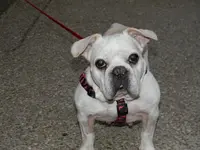 Location: TN
Age: 8 yrs
Sex: Female
Weight: 22 pounds
Kids: Yes
Cats: No
Dogs: Submissive and laid back
Fenced Yard: Required
Adoption Fee: $250.00
Precious Yoda has patiently made her way over to the available page! Yoda originally came to FBRN from a shelter where a breeder had taken her to be euthanized. It seems that she spent her life having puppies, only to be taken to the shelter when she was no longer able to reproduce and due to health issues. When this sweet girl first came to us, she had two visible tumors; one on her belly and one in her genital area. She also had open sores on her back and horrible oral issues that were caused by a previous broken jaw that was never tended to properly. While all of this is very sad, things got better quickly for this girl. She had successful surgery to spay her, to remove the tumors and then oral surgery to remove some teeth. She's healed nicely and is looking forward to being the doted on pet she was always meant to be.
Yes, Yoda is an older girl and has had a hard life but she is super sweet and appreciative of her new life. She likes lounging on the couch next to her human but she's not a "Velcro" Frenchie. She likes to be next to you but doesn't have to always be touching you or in your lap. She is a laid back girl but once she settles in to her surroundings, she becomes more active. Let's call her cautious. This is understandable after spending the first 7 – 8 years of her life in a crate.
Yoda seems to be fine with kids. Her current foster home has 8-year-old kids who regularly visit and she's done great with them. She's also encountered kids as young as 3 at the vet's office and did well. It's almost like the younger the person, the more she loves them!
Yoda's #1 favorite thing? Eating!! Yes, eating! She gets super excited at feeding time and we think that she may possibly be doing aerobics prior to her meals. She bounces from foot to foot waiting for her food to be put down so she can dig in. She's not big on toys but does enjoy the occasional Nylabone.
Yoda would do great with someone who is looking for a companion. Do you love to hang out on the couch and read or watch TV? Then Yoda is your girl! Enjoy easy-going days relaxing and mellow nights? So does Yoda! Because Yoda spent so much of her life in a crate, a person who is home most of the day or can take her to work would be ideal. She would be fine in an office environment because she really is a relaxed and laid back kind of girl. Her current foster dad works from home and Yoda hangs out in his office all day, lounging on the dog bed by his desk or quietly exploring and gnawing on her Nylabone a bit between naps.
Yoda needs a fenced-in yard as she struggles with the coming when called thing. During the cooler weather, a nice, short leash walk might be enjoyable for her and she does really well on a leash. When it's warm, she really needs just the quick, outside potty break then right back inside. She does overheat easily. When she's outside and not in a secure, fenced area, she must be on a leash.
Yoda is okay with other dogs as long as they're submissive. Even with submissive dogs, she will require a very slow intro and adjustment period. She gets along well with the resident Frenchie who is submissive. They run and play together and have fun. But with the resident dominant English Bulldog, she's not too thrilled. Foster dad has learned the triggers and is great at keeping these two away from each but it has taught us that Ms. Yoda has her boundaries and has no problem enforcing them. She seems to do better with small dogs over larger ones.
Because of the major oral surgery Yoda went through, she doesn't have all her teeth. The lower left from the Canine back are gone. She currently gets canned food mixed with dry. She also takes Benadryl twice a day to help with the irritation and itching on her feet and a 10mg Pepcid every day.
She is housebroken if you understand her schedule. She's only had two potty accidents in her foster home and they were both in the first two days of her being there. Once you learn her schedule, she's fine and she won't potty in her crate. Right now, she won't ask to go out either so with patience and understanding, Yoda will work with you on helping her learn how to signal you when it's time to potty. Keeping her on a good schedule will really be beneficial to her.
When she's outside, she does need to be monitored. She LOVES to garden by moving the mulch in flower beds around and potentially rearranging where those flowers should go. Actually, she's not quite mastered the replanting aspect but she's a pro at fluffing the mulch. We've been informed that it's not so much gardening but hunting snails and she enjoys them sashimi-style. Raw! Since snails are not a healthy food group for Frenchies, she really shouldn't be allowed to eat them. They can carry parasites so they're on the "no" list.
Wanna adopt?
Please visit the French Bulldog Rescue Network's website and fill out an application. Click the Frenchie you are wanting to adopt, and you will find an "Apply For Me" button on their information. Please be sure to read their adoption process. Here is the link:
http://www.frenchbulldogrescue.org/adoption-info/available-dogs2/
To view more Frenchies from FBRN, follow this link:
http://frenchbulldognews.com/forumdisplay.php/38-USA-French-Bulldog-Rescue-Network
Please let them know you found them on French Bulldog News!