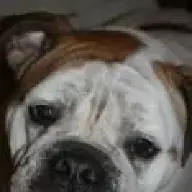 Joined

Apr 23, 2013
Messages

1,283
Reaction score

8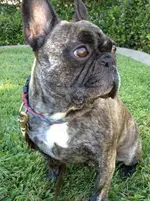 Location: N. CA
Age: 3
Sex: M
Weight: 32 lbs.
Kids: No
Cats: No
Dogs: Yes
Fenced Yard? Required
Fee: $600
Bongo was tearfully and loving surrendered by his family. Bongo's family worked with several trainers to help him overcome his fear and anxiety but poor Bongo just couldn't be comfortable around visiting children and his family had a young daughter who often has friends over. Sadly he nipped a visiting friend and his family felt even though it would break their hearts it was unfair to keep putting Bongo through this and surrendered him to FBRN so we can find him a family without children.
Apart from his anxiety around kids, Bongo is very healthy.
Bongo has 2 Frenchie foster siblings. Initially he was not used to having dog companions, but Bongo is learning to enjoy the company of other dogs. He has begun engaging in some tentative play with the resident Frenchies. He doesn't seem to know all the rules of play, but he does seem to enjoy playing and companionship. He likes to play chase and does not seem to have any resource guarding behaviors with toys or food. However, he is residing with a dog who does resource guard both food and toys, so he has not been exposed to a home with toys and food around unsupervised.
Bongo has a good energy level - he goes on daily walks up to a mile and a half in moderate, cool weather. Bongo is a very smart dog. He is a communicator and will gladly remind you where you put his toys, tell you that he would like to play with the water bottle you have (he doesnt seem to understand you need to drink the water first), and that he wants to go out or come in. He is a happy go lucky kind of guy and goes with the flow.
In terms of his temperament, Bongo nipped a small child (nip with skin scraping). He should be in a home that DOES NOT have small children living there or visiting. We do not allow toys and food tobe left out unsupervised, but Bongo does not seem to harbor any resource guarding behavior.
Bongo is very well trained and can be redirected when he gets too excited. If allowed to get too excited he jumps and gets mouthy. He is impeccably house trained; he has not had any accidents even when left for longer periods of time. He will tell you when he wants to go out. Bongo sits on command and on prompts, lies down, comes most of the time when called and walks well on a leash (well once you remind him that pulling is not acceptable). He even waits and whines at the door to let you know he needs to go outside.
Bongo's favorite activities include: walks, playing with water bottles and running around at top speed for a few minutes at 7pm. He loves giving kisses and being with his people.
We are looking for an adults-only home for Bongo. Bongo would do fine with other dogs because he is pretty easy going, but he does not need to have a dog companion. Bongo would be a good dog for first time Frenchie owners, but he does get excited and jumpy so some dog behavior experience or willingness to learn is preferable. He is exceptionally trained and I think an owner who continued his training, or even wanted to get into agility would be great for him. He is very smart and needs to be challenged and engaged. Bongo does like a lot of people attention and is a fantastic companion. He WILL NOT be placed in a home with children living there or visiting frequently or in a home that hopes to have children in the future. Bongo does not have the ability to be comfortable with small children and his forever home must be committed to not having small children around. If you are on the fence about having kids, please don't apply for Bongo.
A stand-alone home would be best for Bongo. Apartment environments might not be a perfect for Bongo because he can be a bit vocal at times. He likes to try to escape, so adopters want to have control of the doors. He is a mid energy dog, and enjoys lounging in the yard and playing ball so a fenced yard is required.
He really enjoys being with his people so people who are home during the day would be nice, but Bongo has gotten much better at being segregated during the day and is well behaved and quiet (unless he sees his people) and so would be ok with someone who works away from the home. He has been left in his room for 5-6 hours at a time and he is calm and has not been destructive or anxious, he just chills on his bed with the stuffless skunk toy until his people let him out.
Bongo would be great as an office dog. He does have quite an impressive Frenchie death yodel when he is behind a gate and sees or smells his people, so it might take a little work to get him to adapt. When he first came to us he did a lot of yodeling, but quicky learned that behavior was not acceptable and stopped for the most part. He generally likes everyone he meets, and if your office mates like doggy kisses it would work out fine.
Wanna adopt?
Please visit the French Bulldog Rescue Network's website and fill out an application. Click the Frenchie you are wanting to adopt, and you will find an "Apply For Me" button on their information. Please be sure to read their adoption process. Here is the link:
http://www.frenchbulldogrescue.org/adoption-info/available-dogs2/
To view more Frenchies from FBRN, follow this link:
http://frenchbulldognews.com/forumdisplay.php/38-USA-French-Bulldog-Rescue-Network
Please let them know you found them on French Bulldog News!