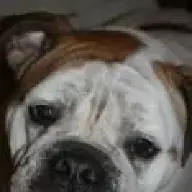 Joined

Apr 23, 2013
Messages

1,283
Reaction score

8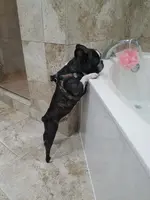 Bruce is a 2-year-old cutie who was surrendered because his loving owner could not get his megaesophagus (ME) under control. It was also reported that he was aggressive with the family's young grandchildren. Bruce can be aggressive around food so if children are eating around him and they drop food, he will fight with other dogs. He also has become increasingly aggressive with other dogs when food is not around. Therefore, he will need to be an only dog in his forever home. He also will not be adopted to a home with cats or other small animals as he has a very high prey drive. He loses control when he sees a frog or lizard and will chase the little things until he makes himself vomit.
Due to his megaesophagus, Bruce weighed only 14 pounds when he initially came into rescue. His ME is controlled now with 4 medications, a special diet, elevated feeding and burping. He needs to eat 3-4 small meals a day and is supplemented with high calorie foods. He does well with boiled egg yolks and Under the Weather Ready Cal as well as natural, unsweetened peanut butter. He is prone to flare ups of his ME if he gets ahold of something that he shouldn't eat.
Other than ME, Bruce is a healthy boy. He is neutered and up to date on his vaccines. He has shown no issues with allergies but may have the potential for some IVDD problems in the future. Currently, he is completely mobile and shows no issues except some slight ataxia. He should avoid stairs and jumping to help prevent any future problems. He is housebroken and leash trained. However, he does not signal to go to the bathroom, so you need to take him out frequently. If not taken out frequently, he may have accidents in the house.
Bruce would do best with someone who is home all day or who only leaves for short periods of time. He is not crate trained but will remain gated in a small area. He may cry for a bit but settles down quickly. He does not have any preference if his forever home has a fenced yard or not. He is fine going out to potty on a leash. He is a quiet dog who doesn't need to be taken on a bazillion long walks.
Bruce has been okay with older children in his foster home. However, he can get worked up during play which will cause him to vomit. He also does not respond to children's commands when they want him to stop playing. He needs an adult to control him. He will immediately respond to the adults in the home if they ask him to stop.
Bruce also suffers from some pretty severe separation anxiety that causes his ME to flare up. He is very codependent and will likely bond with one person in his adoptive home like he has with his foster mom. He wants to be with his person all hours of the day if possible. He should be gated when leaving the home as he has ruined his foster family's couch, by throwing up and peeing all over it, before when home alone.
He thinks he is a leader, but he is really a follower. He's a little couch potato for the most part, but if he sees a plush stuffed animal, he will go nuts! He loves to play with dog toys, bones and the like. He is pretty smart, and knows what he wants, which is an entire day sleeping on his person's lap. This boy LOVES to cuddle!!! He will jump on his foster mom's lap and put his chest to hers and hug her like a child would…that is why his nickname is "Bruce Baby." He is desperate for love and has been said to be a 'stage 4 clinger' but one that you love!
He has had a hard life with battling his ME. He was so skinny at one point that his foster mom was scared that he may die but now he is doing great! He just wants to be a member of a family and find a home that loves him no matter what his flaws are. He has so much love and cuddles to give!! If you need a pup to cuddle with, please apply for Bruce!
View attachment 4821
How To Adopt:
Please view the adoption process and fill out an application at their website ---> frenchbulldogvillage.net
To view more available Frenchies from this rescue, click this link ---> French Bulldog Village
Thank you for considering adoption for your next family fur-mate!
Please let them know you found them on French Bulldog News! :2thumbs: