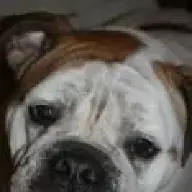 Joined

Apr 23, 2013
Messages

1,283
Reaction score

8
Location: Northern CA
Age: 5 years old
Sex: Female
Weight: 29 pounds
Kids: No
Cats: No
Dogs: Maybe--see below
Fenced Yard: Required
Adoption Fee: $500.00
"This girl has so much going for her, she is like a nice rose, she
needs strong roots and good soil and then she will be able to
blossom."
Cute and quirky Cassandra has meandered over to the available page and
wants you to know that she is super excited and super ready to find
her forever home! Cassandra came into the care of FBRN when her
previous family didn't have the time or resources to address her
behavioral issues. You see, Cassandra guards her people.
She doesn't do it to be naughty. She's very insecure and right now, she
doesn't understand that it's not her job to do the guarding. She just
needs to learn to trust and she needs the love, patience, and attention
of a strong, confident pack leader.
Cassandra is housebroken. She's incredibly smart and knows a few
commands such as sit and lie down. She loves going for walks and her
leash manners are okay but they are improving. If allowed to, she'll try to
lead the way, but a strong leader will remind her that she doesn't
determine where to walk.
Cassandra's favorite thing in the world is playing fetch! She LOVES
fetch. This is a good thing because Cassandra is an energetic girl and
playing fetch helps release that energy. She also enjoys a Kong or
Nylabone when her people are with her. She likes stuffie toys too, but
they need to be sturdy. Otherwise, they're de-stuffed and history in
no time!
She loves to snuggle and snooze. A game of fetch, a long walk, and then
home to crash on the couch are Cassandra's idea of a perfect day.
There are even rumors that she might be a candidate for agility
training! What better way to work on both her energy and her focus?
Cassandra has a lot of anxiety and pent up energy. In her foster home,
she's not shown a lot of people guarding against other dogs and
people but her foster family are experienced with behavior issues and
are mindful of how they approach each other to help Cassandra learn
that things are okay. Cassandra's anxiety increases when company comes over,
or when there is a lot of activity and fast movement by people. She
gets overly excited and will jump and misbehave. Owners must be
committed to controlling her excitement levels. The foster home has
been very successful when calm company comes over. When Cassandra is leashed and seated next to her person, she does not guard.
The ideal home for this cutie? One that's calm. One that is balanced
and consistent. Ideally, a single person who is naturally laid back
and physically active would be best. With a calm and consistent
environment, a strong and confident leader, and plenty of exercise and
guidance, Cassandra will blossom into the amazing girl she was born to
be. She is a very smart girl and really wants to be a good girl but
she struggles with change and with her anxiety. A balanced leader
could help introduce her into a life that would be the most beneficial
to her and give her more confidence and less fear.
She's a very sensitive girl and loud or aggressive noises and fast movement cause
her more stress and worry. Someone home all day, who works from home,
or is retired, would be perfect for Cassandra. However, she has done
well when left for periods of time if left to roam the house. She just
plops her brindle self on the sofa and naps. A home with a fenced in
yard where she can play fetch and run off her energy is required. She
is not a candidate to go to the dog park. But long walks are perfect!
A home with a lot of activity and constant company coming in and out
would likely not be a good fit for Cassandra.
Wanna adopt?
Please visit the French Bulldog Rescue Network's website and fill out an application. Click the Frenchie you are wanting to adopt, and you will find an "Apply For Me" button on their information. Please be sure to read their adoption process. Here is the link:
http://www.frenchbulldogrescue.org/adoption-info/available-dogs2/
To view more Frenchies from FBRN, follow this link:
http://frenchbulldognews.com/forumdisplay.php/38-USA-French-Bulldog-Rescue-Network
Please let them know you found them on French Bulldog News!