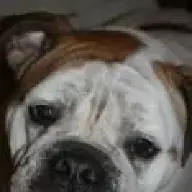 Joined

Apr 23, 2013
Messages

1,283
Reaction score

8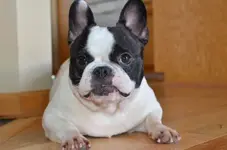 Location: Minnesota
Age: 4 years old
Sex: Spayed Female
Weight: 21 pounds
Kids: Yes, 12+, experienced around dogs, with excellent history of door-shutting/gate-closing skills.
Cats: No
Dogs: Yes, preferred
Fenced Yard: Required
Adoption Fee: $500
Our darling Cynthia was rescued by a Good Samaritan from a puppy mill dog auction and surrendered to FBRN. This lucky girl has a second chance at life, and cannot wait to find her perfect forever home to spend the rest of her days. Cynthia embodies a true French bulldog – curious, loving, courageous, and comical. She loves her people and will happily snuggle next to them on the couch. She had some typical Frenchie itchies and skin problems when she first came to us, which has cleared up with a holistic, grain-free diet.
Because she spent the first years of her life in a puppy mill, Cynthia is an adventurous little frog who wants to explore the world! She will try to pull out of a collar, so a well-fitted harness is recommended, though Frenchies have been known to twist out of harnesses, too. Cynthia will run if she gets free, so it would be best for her forever home to have a secure, fenced-in yard to keep her safely contained. Additionally, Cynthia will try to bolt out of any door that is ajar, so an apartment would probably not work for her, as she also barks occasionally. Because she is a door-bolter, we think she'd be best in a home without young children, because even with excellent intentions, kids don't always remember to shut the door behind them, and their friends may be even less reliable. When leashed and on a harness, Cynthia does great on walks and will not tug. Cynthia is a smart cookie, and would do great in an obedience class. She needs to be stimulated so she doesn't get bored, otherwise she may chew on things around the home to entertain herself.
Cynthia is affectionate and has not displayed any aggression or reactivity. She loves to play with all kinds of toys and it's a joy to watch her toss her toy around or shake it. It is important for her forever home to continue to help Cynthia safely explore the world as she has only known the life of a puppy mill dog. Cynthia likes to give you kisses on your hand, but she is coy and will not kiss your face.
Cynthia is becoming housebroken and has never had an accident in her kennel in her foster home. However, she needs an opportunity to go outside for her continued potty-training success, particularly because she came from a puppy mill situation. Her foster mom reinforces Cynthia with treats when she does her business outside. Cynthia should not go longer than 4-6 hours without a potty break at most. She will need a mid-day potty break if her parents work, but she is also likely able to accompany her owner to an office.
Wanna adopt?
Please visit the French Bulldog Rescue Network's website and fill out an application. Click the Frenchie you are wanting to adopt, and you will find an "Apply For Me" button on their information. Please be sure to read their adoption process. Here is the link:
http://www.frenchbulldogrescue.org/adoption-info/available-dogs2/
To view more Frenchies from FBRN, follow this link:
http://frenchbulldognews.com/forumdisplay.php/38-USA-French-Bulldog-Rescue-Network
Please let them know you found them on French Bulldog News!