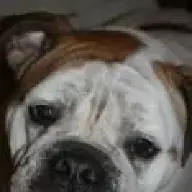 Joined

Apr 23, 2013
Messages

1,283
Reaction score

8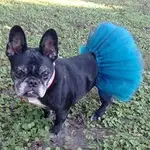 Location: Eastern Virginia
Age: Senior--there is disagreement among vets who've seen her. One says 5, one says closer to 10. We'll say she's 8.
Sex: Spayed Female
Weight: 21 pounds
Kids: Yes
Cats: No
Dogs: Yes, if relaxed (See Bio), would be happiest as only
Fenced Yard: Required
Adoption Fee: $250
The lovely Dharma is on the search for her forever cuddle match. Dharma came from another rescue. She had been acquired from a breeding situation. With her sweet and cuddly personality, we hope her search is short!
We aren't sure of Dharma's age. She came without any vet records. Gauging a dog's age is an art, not a science, and two vets who've seen her disagree about her probable age. One says 5, one says she's closer to 10. We've decided to post her as a senior dog and say she's about 8.
Dharma is a very healthy girl with some mild dry skin issues. She has met children and other dogs, but she has not met a cat and has shown a high prey drive toward birds and squirrels. She won't be placed in a home with cats or small animals, like hamsters or ferrets. Dharma does well with other dogs in the majority of situations, but she has shown some possessiveness over food with other dogs and she has demonstrated possessiveness of her human. She may growl and snap at another dog that approaches when she is with a person. Dharma will need training to show that this behavior is not acceptable and to make sure it does not escalate. It will be especially important to train her well if her adopters have kids. It might be best that Dharma be an only dog if there are kids in the house.
Dharma's absolute favorite thing in the whole world is to cuddle. If she could lie on someone's lap all day she would be in heaven! Dharma also enjoys walks, the occasional romp around the yard, and though she has even been known to play a quick game of tug-of-war in her most rambunctious moments, her activity needs are pretty low. Her main focus is attention from her people – she will happily be your shadow all day long!
Behaviorally, Dharma has no aggression toward humans, but she does have some food aggression with other dogs and is protective around people as mentioned before. Her housebreaking is a work in progress, as it is with many breeder dogs. Adopters should be prepared to continue working with her on her housetraining. All adopters should be prepared for the possibility of some regression in the house-training department with any new dog. Dharma is crate trained and stays there when she is left alone, but she would likely be fine to roam as well. She is also learning some basic commands. Though Dharma came from a breeding operation, not a puppy mill, puppy mill dogs and breeders may have some quirks in common. Please read the puppy mill article before applying for Dharma.
Dharma would do well with most family types. She's not going to be your hiking companion or a Frisbee champion, but she would be the perfect lounging buddy! She would do well in a home with submissive, non-reactive dogs or as an only dog. Children would also be okay, as long as they knew not to be rough with her. Dharma doesn't care whether she's in an apartment or has a yard, as long as she gets lots of attention and occasional walks (especially as she recently lost some unneeded "fluff"!). While Dharma loves being with her people, she is fine alone while her people are at work making money for her treat fund! Of course she would also be a wonderful addition at the office!
Wanna adopt?
Please visit the French Bulldog Rescue Network's website and fill out an application. Click the Frenchie you are wanting to adopt, and you will find an "Apply For Me" button on their information. Please be sure to read their adoption process. Here is the link:
http://www.frenchbulldogrescue.org/adoption-info/available-dogs2/
To view more Frenchies from FBRN, follow this link:
http://frenchbulldognews.com/forumdisplay.php/38-USA-French-Bulldog-Rescue-Network
Please let them know you found them on French Bulldog News!
Last edited: