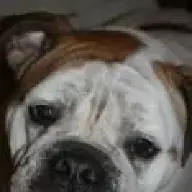 Joined

Apr 23, 2013
Messages

1,283
Reaction score

8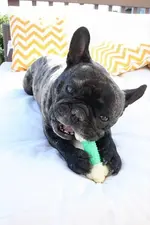 Location: Central CA
Age: 5 years
Sex: Male
Weight: 26 pounds
Kids: Yes
Cats: No
Dogs: Maybe
Fenced Yard: Preferred
Adoption Fee: $500.00
Edward is somewhat of a Zen master. He's on the mellow side and quite content to hang out with his foster family and involve himself in whatever they're doing. He'll hang out and watch TV with them, snuggle while they read or just lounge around chomping on his Nylabone and stuffies.
He does enjoy being active, too. He really enjoys going on walks and checking out the neighborhood. He also likes to entertain by doing tricks. He's smart and eager to please.
The dog-savvy kids in Edward's foster home enjoy his company and he enjoys theirs. They've even put him through mini agility course-type set ups and he's very agile and easy to train. He's mostly happy getting belly rubs, snuggling and lying in the sun.
Edward currently lives in a home with no other dogs but he's met a few and didn't dislike them nor really engage them. He'd be fine as an only dog and may be suited to live with other dogs but the other dogs would likely need to also be somewhat mellow and FBRN's slow intro policy would need to be followed for the best long-term results.
Ideally, a home with a variety of people would be best for Edward. He really enjoys attention from his dog-savvy, two-legged foster siblings who are 4 years old and 7 years old. He also likes to retreat with calm adults and just relax. First time Frenchie owners would be fine as Edward is amazing and an easy kind of guy.
Edward would do fine in an apartment as long as he's taken out on leash for walks. He doesn't bark very often. A house would be fine as well, of course. A fenced yard is preferred so he can romp and play (supervised, of course) but it's not required. He is mellow enough that walks are fine for his energy level.
Someone who works from home would be great, or someone who could come home during lunch for a visit and potty break. He's affectionate and loves his people so having someone around for the most part would make him very happy. He would adjust easily to an office environment as well, and because he is so mellow and doesn't bark much, he'd find the working life just fine. As long as he has a soft bed, a Nylabone and some attention, he's good to go.
Edward has some mild allergy issues that are managed with special shampoos, topical treatments and sometimes meds or supplements. Other than that, he's a healthy boy!
Wanna adopt?
Please visit the French Bulldog Rescue Network's website and fill out an application. Click the Frenchie you are wanting to adopt, and you will find an "Apply For Me" button on their information. Please be sure to read their adoption process. Here is the link:
http://www.frenchbulldogrescue.org/adoption-info/available-dogs2/
To view more Frenchies from FBRN, follow this link:
http://frenchbulldognews.com/forumdisplay.php/38-USA-French-Bulldog-Rescue-Network
Please let them know you found them on French Bulldog News!